On 5 October 2020, the League celebrated achieving being granted charity status by releasing a new logo.
The new logo is designed to be a fresh and clean take on the previous logo.
In place of the 3D elements and the Invicta horse, we have bold colours and bold typography based around a shield.
With clean lines, clear shapes and appropriate spacing, we wanted the logo to be professional and engaging, but more than that, we wanted to make sure our football community can positively relate to it.
Our new logo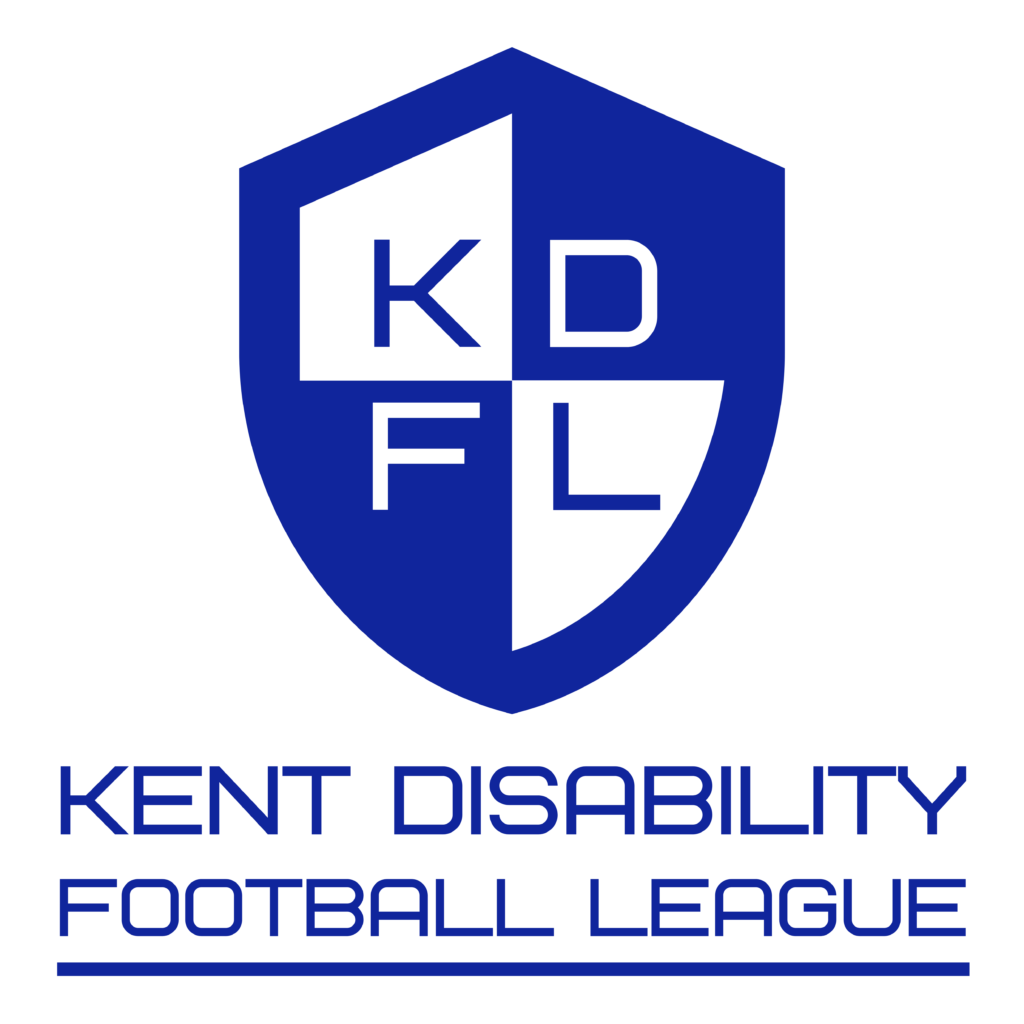 Our previous logo
Designed in house by our Webmaster, this logo was designed at no additional cost.
Read on to learn more about the new logo…
---
How we started
We started by reviewing our existing logo. Understanding it's strengths along with areas to improve, we wanted to review what it said about us.
We also researched logos used across the football community in Kent, across the FA family and in disability football leagues.
We found that there is a lot of similarities between the logos in use across the football community. The vast majority are a shield shape or a circle. Blue is also very popular colour with the vast majority being predominantly blue. When looking at the Kent community, the Invicta horse is used across several logos. Another popular feature of the logos is a football.
These features are also seen in the current KDFL logo.
---
Why the shield?
The shield represents a mix of historic footballing imagery with a message of safety and support. Our previous logo also used a shield. Keeping this helped us maintain a sense of identity.
We provide a safe space for adults and children of all abilities and needs to play football.
And that's what we want the shield to convey.
---
Why the KDFL letters?
The League is often shortened to 'KDFL' so this has become the prominent message in the emblem.
The logo includes both our full name along with our shortened name. We also have a version that incorporates our charity number along with one that incorporates our Respect message.
---
Why the blue?
The previous logo incorporated several shades of blue.
The help with maintaining a sense of identity as we transition from the old logo to the new, we incorporated two shaded that were included in the previous logo (Admiral blue and Azure blue).
---
Why the font?
Our previous logo had a generic font, Arial Bold. We felt that this was too bland and didn't communicate ourselves fully.
The new font, Bicubik, mixes readability with a bold and striking font with chunky lettering, clean lines and dramatic curves.
---
A more digital design
One of the limitations of the previous design was it's digital friendliness.
As more and more of what we do moves online, we wanted something that gave us greater flexibility.